About Abe Keller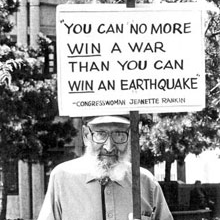 Who was Abe Keller?
Abraham C. Keller (1916-1997) was a dedicated educator and passionate activist. Through his joyful engagement in peace and justice activism and education, he left a proud legacy of accomplishments in our community, empowering those who knew him.
The son of immigrants from Poland, Abe grew up among Black, Jewish and Italian families in a poor section of Cleveland. He did well in school, and worked hard to earn a college education and a doctorate in French literature. A professor at the University of Washington in Romance Languages and Literature since 1948, he also remained committed to the welfare of oppressed people and the goals of peace and justice throughout his life.
Abe was fearless in defending academic freedom, First Amendment rights, and related causes. He risked his career at UW by defending freedom of speech in the 1950's and 1960's. Later he put himself on the line protesting Trident submarines, nuclear testing and proliferation, and U.S. interventionist foreign policies.
He was also a marvelous storyteller. He started out entertaining his two sons and their friends, but later expanded to Cub Scouts, library story times, and eventually his "Keller The Teller" program on KCTS public television.
Abe's peace and justice activities included:
American Friends Service Committee (AFSC)
Training West African leadership for the AFSC in Togo
Educators for Social Responsibility, Seattle
Fellowship of Reconciliation and Jewish Peace Fellowship
Seattle Draft and Military Counseling Center
African American/Jewish Coalition for Justice
Northwest Disarmament Coalition
Seattle Pledge of Resistance
After his death on June 4, 1997, Abe was honored by the UW Faculty Senate during their October meeting that year. In 1998, the Black Dollar Days Task Force established the Abe Keller Community Service Award as a tribute to his many contributions to Campaign 5000, a collaboration promoting economic justice and inter-group communication.
We still live in a society struggling with violence, injustice, and inequity. Expanding Abe Keller's legacy ensures that individuals and organizations can continue to work for non-violent and just alternatives.

[slideshow_deploy id='246′]